11.27.06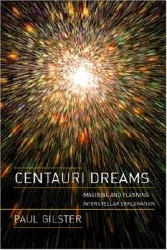 Recently, I've been trying to write at least a short review of every book I read. The latest on my list: Centauri Dreams, by Paul Gilster.
Centauri Dreams. What a name. I noticed it on a blogroll this summer and was instantly drawn in to Paul Gilster's blog. It embodies everything that's wonderful about blogs and the web. Interstellar travel is a niche topic. Almost nobody works on it for a living. I'd be lucky to find any books in a library on the topic, and if I did, odds are they'd be from the Apollo era, if not earlier. But with Centauri Dreams, I get a relevant, up to the minute story every day.
After a few weeks of reading the blog, I realized that there was a book to go along with it (yes, this seems backwards) and Centauri Dreams the book quickly shot to the top of my reading list. It even inspired me to get a library card in Mountain View!
The book is a summary of all the major ideas that have been advanced for interstellar travel in the last fifty years. The problem is a difficult one. Even the New Horizons spacecraft, the fastest ever launched, would take 80,000 years to get to the nearest star. It would make more sense to wait and develop new technologies, and there's a detailed discussion of the Wait equation. Much of the book is devoted to exotic propulsion methods and the men who dreamt them up. The author clearly admires these visionaries, and has read all their books. Even the bad science fiction that they wrote on the side.
There's Freeman Dyson and the legendary Orion project, which recommended denoating nuclear bombs underneath a spacecraft and riding the shockwaves in the 1950s. The success of the Mercury program and the Nuclear Test Ban Treaty put an end to that. Then there's Robert Forward and his solar sail (check). A solar sail would be tens of kilometers across and incredibly thin. It would be propelled by photons from the sun, and thus wouldn't need to carry fuel. This would make it incredibly light.
Viewing the development of space flight through the prism of these programs was eye-opening. Much like Tom Wolfe's The Right Stuff, it shows that the rosy picture of rapid, brilliant technological advance and heroic astronauts isn't the whole story. From the standpoint of interstellar travel, the 1950s were a golden age. The space age was coming quickly and there was infinite potential. Doors were wide open: exotic ideas like Project Orion were given funding and a chance to prove themselves. But then we had to go to the Moon by 1970, and suddenly there was no room for anything but man-carrying rockets. Projects like the Solar Sail would foreverafter be second-class citizens.
Freeman Dyson's take on all this is fascinating, and inspired me to start reading his Disturbing the Universe, which I'll hopefully review soon. Here's an excerpt:
The history of the exploration of space since 1958 has been the history of the professionals with their chemical rockets. The professionals have never been willing to give a fair chance to radically new ideas. Orion is dead and I bear them no grudge for that. Orion was given a fair chance and failed. But there have been several other radical schemes that came later, schemes better than Orion, schemes that could do everything Orion could do and more, schemes that do not spread radioactive debris around the solar system. None of these newer schemes has been given the chance that was given to Orion, to prove itself in fair competition with chemical rockets. Never since 1959 have the inventors of new kinds of spaceship been encouraged to try out their ideas with flying models as we did at Point Loma. You will not find any of their models resting beside our Hot Rod in the National Air and Space Museum. (115)
There are problems other than propulsion, of course. Gilster also talks about communications, nanotech and AI. The AI discussion was awful and used old results to try and create a sense of hope where there is none. The nanotech discussion was far more interesting. Lowering a ship's weight has fantastic effects on travel time, so miniaturization could go a long way. I pictured an interstellar mission as a swarm of microscopic ships, each specialized and capable of communicating with the others. If they were small enough, they could just be individually accelerated towards the stars. I don't know what the masses and speeds would have to be for this to be reasonable, though.
An interstellar mission won't have any hope of getting funding until telescopes start taking pictures of blue-green worlds around sun-like stars. And there's a lot of work on that front. I'm excited about the ESA's COROT mission that's being launched in late December and NASA's Kepler mission in 2008. The Centauri Dreams blog is a great way to stay up-to-date on such news. The book is not. I whole-heartedly recommend the former, and maybe 2/3-heartedly recommend the latter.
Permalink Comments off