02.24.09
Here's a handy chart of the C Standard Library functions in time.h: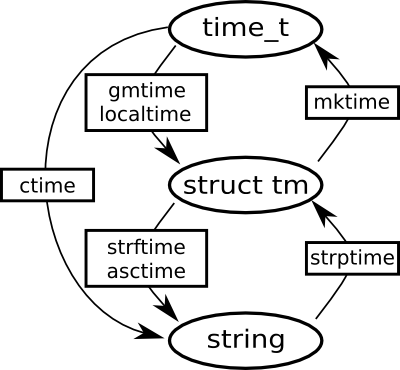 The ovals are data types and the rectangles are functions. The three basic types are:
time_t: number of seconds since the start of the UNIX epoch. This is always UTC!
struct tm: A broken-down date, split into years, months, seconds, etc. In Python, it's a tuple.
string: Any string representation of a time, e.g. "Wed Jun 30 21:49:08 1993″.
Generally you either want a time_t (because it's easy to do arithmetic with) or a string (because it's pretty to look at). So to get from a time_t to a string, you should use something like strftime("%Y-%m-%d", localtime(time())). To go the other way, you'd use mktime(strptime(str, "%Y-%m-%d")).
This library has been around since at least 1982. It's been replicated in many other languages (Python, Perl, Ruby). We seem to be stuck with it.
Read on for my rant about why this is all idiotic.
Read the rest of this entry »