09.07.09
The other day, I noticed that one of my friends had Wikipedia's article on the em dash bookmarked in her toolbar. While that article is a gem of punctuation literature, it turned out that she would go to it, select an em dash, and copy/paste it into emails.
A better way to do this is with a bookmarklet. Drag this to your browser's bookmark toolbar:
Click the bookmarklet on any page. You'll see a character palette like this: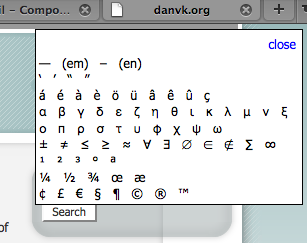 Select the character you like and either copy/paste it or drag it where you like. Then click "Close" to make the palette go away until you need it again. Enjoy!
Note: I've tested this in Firefox, Safari and Chrome. This probably doesn't work in IE.