05.23.07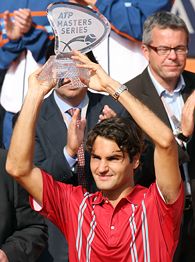 Apparently there's a big gaping hole in my RSS subscriptions. Roger Federer beats Rafael Nadal on clay and it takes me three whole days to notice?
This is kind of a big deal. Nadal hadn't lost on clay in over two years, the past 81 matches. Federer was 0-5 against Nadal on clay before this match. And that's a record that mattered, since the biggest clay-court tournament, the French Open, is coming up in four days. If Federer can win the French, he'll have pulled off tennis's greatest feat, a Grand Slam, something no man has done since Rod Laver in 1969.
The French is definitely the most exciting Grand Slam tournament these days, since it's the only one that Fed isn't expected to win in a rout. I woke up at 5 AM to watch the final last year, and it was phenomenal. Nadal was up two sets to one and a break, and it seemed as though it might just end there. But Fed kicked it up a notch, won some absurd points to force a tie-break, and for a moment, it looked like he just might pull it off. But all to no avail. Nadal took him out 7-4 in the tiebreak.
You've got to give Nadal some serious credit. He's the only reason that Federer hasn't won eight slams in a row, and 12 of the last 13. That's some kind of pressure, but he's never withered under it in the past. Mark your calendar, the French Open starts on Sunday, and the men's final is on Sunday, June 10. I'll be tremendously disappointed if it's not a rematch of last year's.