06.17.07
I've been enjoying the Hellyer disc golf course down in San Jose of late, so I was excited to discover that it had a sister course just across the creek. When I found out there were geocaches and a bike trail in the area, it was Saturday road trip time!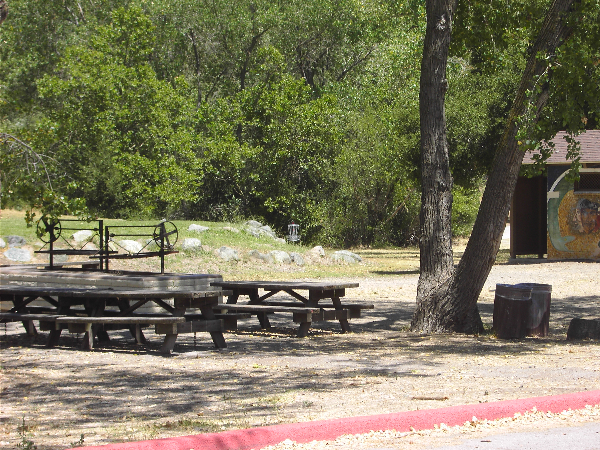 That's the new disc golf course. It really is new, only a few months old. The cups were still shiny (you can see one in the mid-right of the picture). The course is flat, long and heavily wooded, which makes it the exact opposite of the old course:
Playing solo, nine holes go by pretty fast. I played through a group of five guys along the way, and of course the one hole I had an audience for was the worst. I hit three trees, fell over, and missed a putt for a six.
After that, it was off to find access to the Coyote Creek Trail. This part would have been a heck of a lot easier if I hadn't left my GPS at home. I'm going to have to come back to the trail later. There are at least three small caches along it, as well as a fun-looking four-part multicache. Eventually I found a small park and found a bridge in the back. But not before seeing this dramatic illustration of what Ryan considers society's greatest menace:
Yes, that would be IRRIGATION.
Fulfilling moment #1 on the Coyote Creek Trail: discovering that it synced up with the old disc golf course and I'd even seen it before. Fulfilling moment #2: finding Hellyer lake: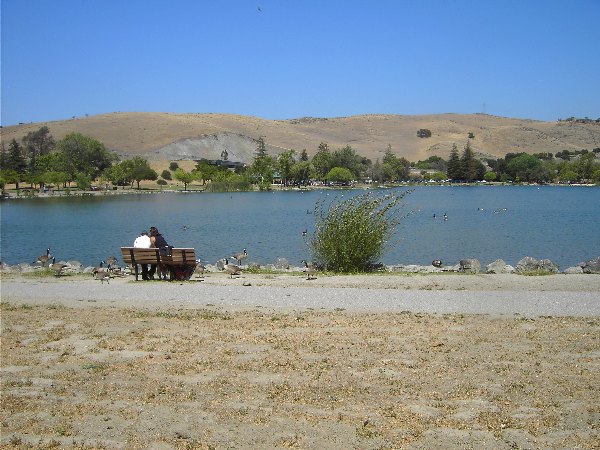 Awwww, a tender moment caught on camera! Also, some generic waterfowl forever preserved for posterity: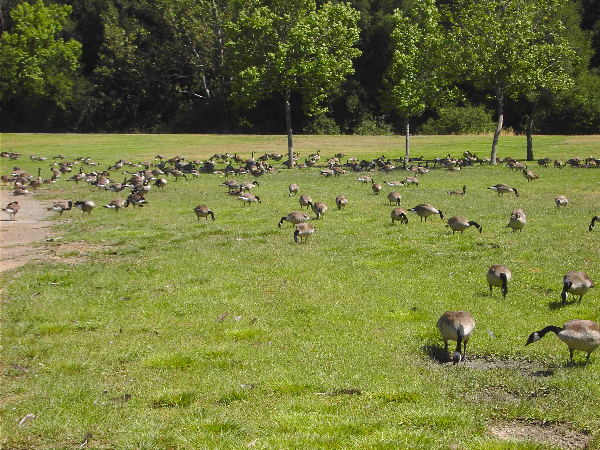 I got excited when I saw this: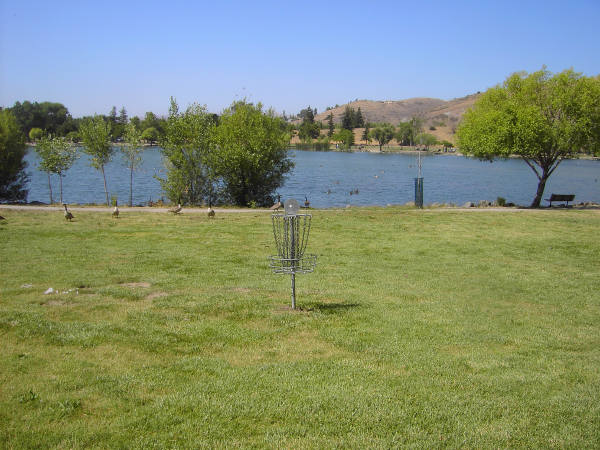 Usually when there's one disc golf hole, there's at least eight others. But this one had no markings, no visible tee and I couldn't find any more holes in the park. So it's an enigma.
Cool moment #3: Stumbling across a velodrome and snatching this: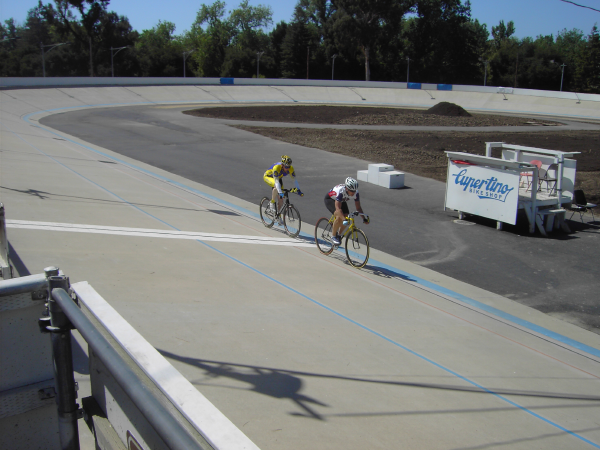 You can't tell it from the picture, but those guys were going FAST! I wasn't even sure they'd be in the frame when I snapped the photo, so I'd say it turned out surprisingly well. The guy in charge said that there'd be time trials there tomorrow and there were races most weekends. I'll have to make another trip for that, too.
Finally, I made it all the way to the Coyote Creek trailhead: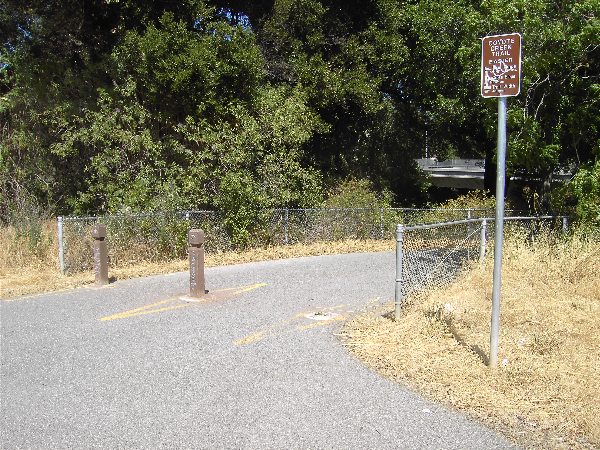 and started back. Through various detours and turns, I wound up passing the same jogger four different times. I wonder what he thinks of me? There was still time for one final cool moment: snapping this shot.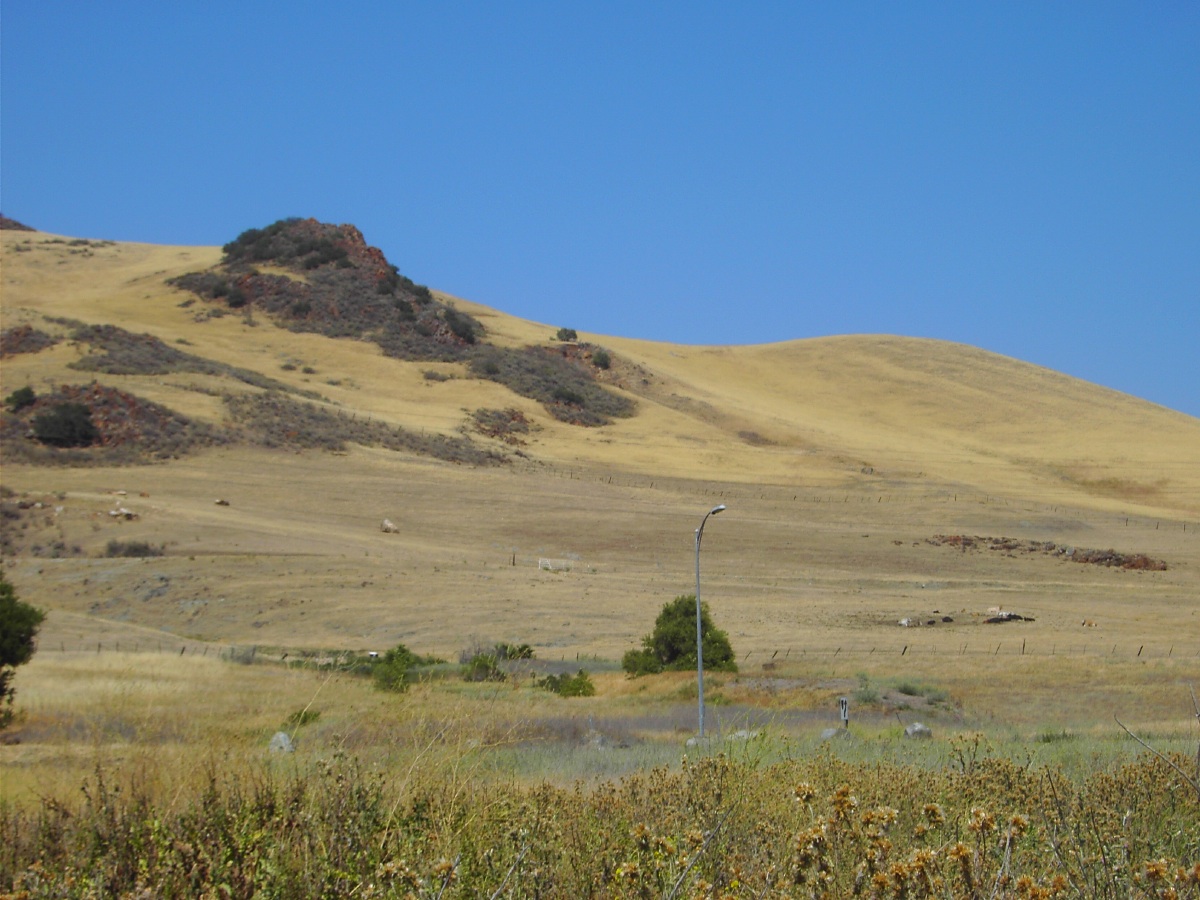 Click for a larger version. It's an argument for the militantly anti-irrigation folks (see above). That hill has a sort of austere beauty. It just wouldn't be the same if it were covered in green. It would be an even better shot if there weren't that stupid light pole in the middle!