09.06.07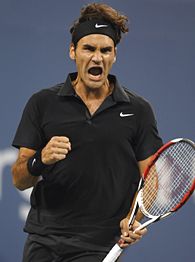 It's time once again for a token Grand Slam post. The 2007 US Open is winding its way to the final weekend. There have been some surprises, like defending champ Maria Sharapova's early exit, and some fun matches, like James Blake's loss to Tommy Haas in a fifth-set tiebreak.
Last night's match between Andy Roddick and Roger Federer was the most hyped of the tournament. The result was no surprise. Federer won in straights. The messaging on this match has been spectacularly consistent: Roddick played brilliantly, but there's no shame in losing to the greatest player of all time. I think this is crap. People need to stop going so easy on Roddick. He's 1-14 against Roger all-time and 0-9 since 2004. He hasn't taken a set off the guy this year. Maybe if people stopped patting him on the back after every loss and telling him how close he came, then he'd be forced to regroup and find a way to deliver.
One highlight of the match was Andre Agassi's debut as an announcer. Great players often make great announcers, and John McEnroe is the best in the business. Andre didn't pipe up too frequently, but everything he said was interesting. Here's one exchange:
When Roddick stared down Federer and bellowed after a 138 mph ace to get to 4-4 in the first set, Agassi said: "There's a fine line between getting pumped up and waking a sleeping giant, I assure you."
Another great moment came when Andre revealed how he used to deal with Boris Becker's. He picked up on a tell — whenever Boris stuck his tongue out before a serve, he was sure to go down the middle. What an edge that would give you! I wonder if Roger's picked up on anything like that. Andy's serve just doesn't seem to phase him.
My picks — Justine Henin beats Svetlana Kuznetsova in the Women's final Saturday. On the men's side, Novak Djokovic beats David Ferrer in the semis before losing a close final to the man himself, Roger Federer.