02.27.08

FRONTLINE on PBS, the documentary series that takes on the tough, complicated issues and finds them… tough and complicated.
It's rare for me to watch a documentary and conclude that it undereditorialized, but that's exactly the reaction I've had to the first few episodes of this season.

First we had The Medicated Child, which looked at the rapid increase in drug prescriptions for ADHD and Bipolar disorder in children. Frontline's approach was to follow several families that had either put their children on drugs or decided not to. Each family had widely varying reactions. One family felt that the drugs prevented their child from committing suicide. Another felt that the drugs had led directly to their child committing suicide. And so on. I doubt that these cases are typical, but with only a few stories in the show, it's difficult to get any sense of proportion. The issue of what's caused the increase in prescriptions, the issue I found most interesting going into the show, was hardly touched.
Then there was Growing Up Online, which purports to look at the increasingly prominent role of the internet in the lives of kids. I was really excited about this one since, unlike with most documentaries I see, I have very direct, personal experience with this issue. I was left with the distinct impression that I knew more about growing up online than the producers did. Once again, they followed a few extreme examples. One girl created an entire online world revolving around erotic, gothic pictures of herself. Another boy was driven to suicide by cyberbullying. These are interesting cases, but again, they are so rare that they throw off all sense of balance in the episode. The show was not without its strengths, however. Some of the kids had interesting perspectives on the role of the internet that I was able to relate to. And most interestingly, it showed me how growing up online has shifted since I did it. We had AIM and email when I was a kid, but most people didn't have blogs and there was no Facebook. We had dialup. Going online was a decision. Nowadays kids have laptops, cable and wireless connections that are always on. Being online is no longer an experience, it's just a given.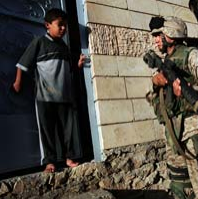 Finally we have Rules of Engagement, which looks at the incident in Haditha, Iraq. I was inspired to watch this by an interview with the director on On The Media, one of my favorite podcasts. Haditha is an especially thorny issue, even by FRONTLINE standards. The Marines say one thing. The Iraqi's say something completely different. Several Marines have changed their stories, but only after being offered immunity to testify against one another. There's essentially no physical evidence. It's just one man's word against another's. I certainly feel as though I understand the Haditha situation better after watching this documentary, but I have no idea who to believe.
I guess this is a problem inherent to the documentary. Is a mere data dump valuable? Is it possible? Is it better to editorialize explicitly and make an argument, or is it better not to take sides and only incidentally present a skewed or unbalanced view.
I don't know the answers to any of these questions, but I do know that FRONTLINE has left me wanting unqualified statements of fact. Maybe I'll go read some math books…